Storage building for medium-level waste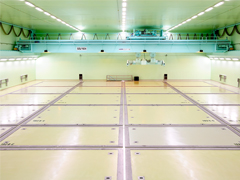 Storage building for medium-level waste
The storage building for medium-level waste has storage capacity for 384 twenty-foot storage containers. The storage containers are filled with conditioned waste ready for final storage and are stacked one on top of the other in the storage shafts by remote control. The solid construction of the building not only shields the waste, but also protects it from external effects. As the stacks may have a maximum height of 16 metres per storage bay, eight normal-sized containers can be stacked on top of one another. The individual storage shafts in the storage building are covered by solid concrete lids.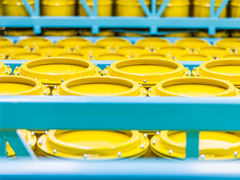 The storage building is managed in accordance with the latest principles of radiation protection. The reception, unloading and storage areas are separate. The stored goods are controlled remotely with the help of cameras as well as in direct eye contact through lead glass windows. The contents of the containers destined for storage can be checked at special measuring stations.
There is a centralised inventory and careful inventories are also kept for each location and of the contents of each individual container. The condition of the stored casks and containers is also checked regularly.
The gas warning device installed in the exhaust air vents continuously monitors the concentration of gases such as hydrogen and methane as well as the temperature in the storage building.