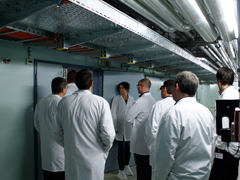 Guided tours of the facility
We are happy to receive visitor groups of eight or more. During a tour of the facility you can see for yourself how radioactive waste is treated and processed for interim storage in a safe, responsible and environmentally compatible manner.
Please make a reservation by calling us on +41 (0)56 200 41 91 or by E-Mail or online.
A guided tour takes around two hours. We are looking forward to your visit to the central interim storage facility in Würenlingen.
A look behind the scenes
Gain an insight into our activities with a look behind the scenes.